Take a look at an article in the Huffington Post from one of our incredible luxury weddings!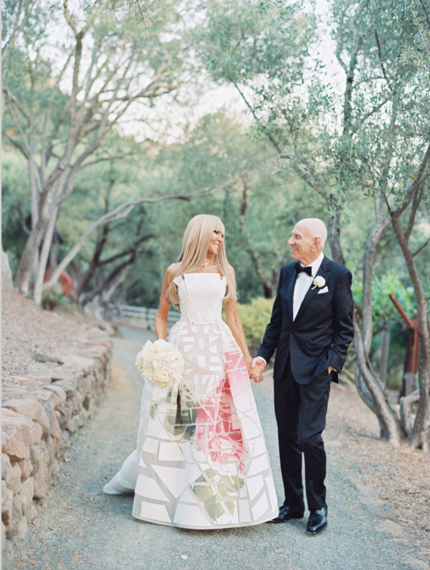 Sometimes–it's love at first sight. Even with a dress.
And when you add a cake–well, anything can happen.
Of course, you could say fate brought us together–the gown and me.
Our story began last fall–during my sixth season filming at Mercedes-Benz New York Fashion Week.
My crew and I were in the middle of our usual, bleary blitz of 87 shows in eight days–a marathon of interviews, runways and designer coverage for our half-hour West Coast TV broadcast: Lives of Style–which I host–when I saw… the perfect dress–for me.
It was the next-to-the last look at Carolina Herrera's breakthrough runway collection for Spring/Summer 2015–her stellar, tour de force where she boldly integrated technique with technology, admixing painted patches of foam with silk, wool and cotton with extraordinarily éclat, transforming florals into eye-popping, three-dimensional creations–with a nod to James Turrell.
I was mesmerized, following the gown–a mélange of blooms on neoprene squares affixed to silk gazar–called "Broken Rose"–as the model threaded her way through mock trees that comprised the runway, until she literally floated out of sight.
It was–I said to myself, the perfect gown in which to be married.
At that moment–I proposed to the gown–even though there wasn't a groom in sight.
But serendipity plays a part a major part in my tale.
After a panoply of suitors, my now-husband Frank–a man who swooshed into my life like a summer sun after a hard rain, asked me to marry him. I said, "Yes."
Then it was time to get formally engaged–to the dress.
Straightaway, I flew to Carolina Herrera's boutique on Madison Avenue to secure the gown. I needed a model size: 2 or a 4–impossible to come by. But somehow, Carolina's people made it happen.
As soon as I tried it on, I knew "Broken Rose" and I were meant for each other.
The strapless gown had ivory panels of neoprene on the bodice that looked both geometric and classic. Elegant, feminine, timeless, with a fitted waist and a flowimg skirt–and the iconic painted rose patches–it was perfect runway to real life look for me. It was not my first wedding, but it would be my best.
So we booked our black-tie, sunset wedding–at one of the most exquisite and enchanting resorts in Napa Country–Auberge du Soleil, on a date when we knew the gown would be ready for me.
"Broken Rose" was to have it's initial Northern California "showing," at my nuptials.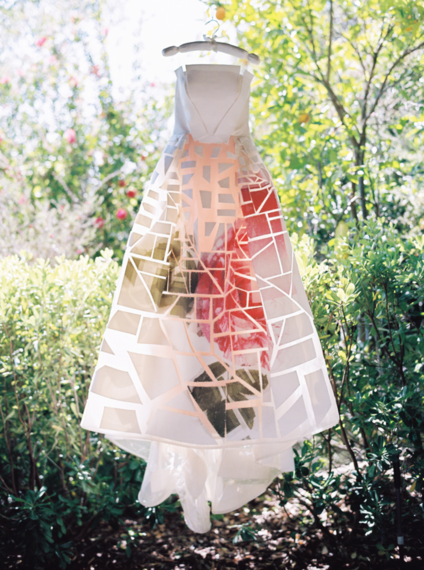 Legendary, former San Francisco Mayor Willie Brown (I had facilitated his own "modeling" career when I gotten him on six fashion pages of Esquire 17 years ago)–generously agreed to officiate.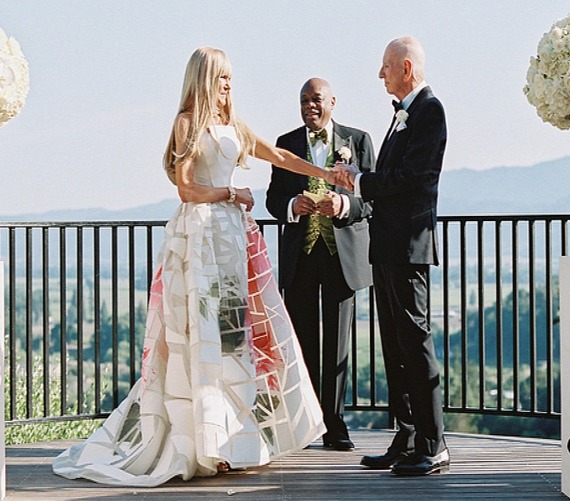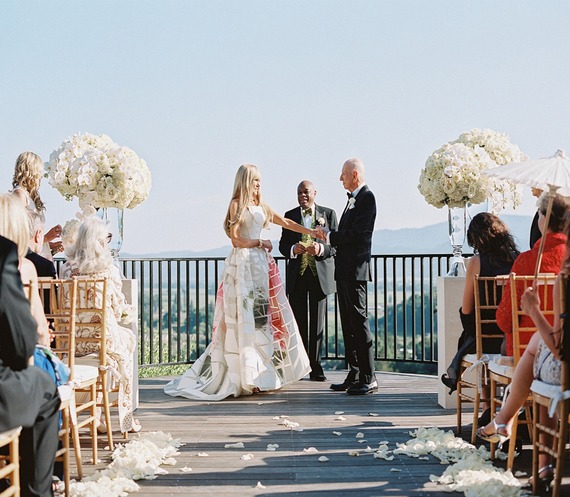 As word spread about my "Carolina gown," San Francisco socials were buzzing about the dress. I wanted to ensure it received its star turn.
So we expanded reach of Broken Rose–dressing my matron of honour–my daughter Erin, and my bridesmaids–dearest friends Cathy MacNaughton and Mary Poland in Carolina's rose-themed dresses that complemented my own.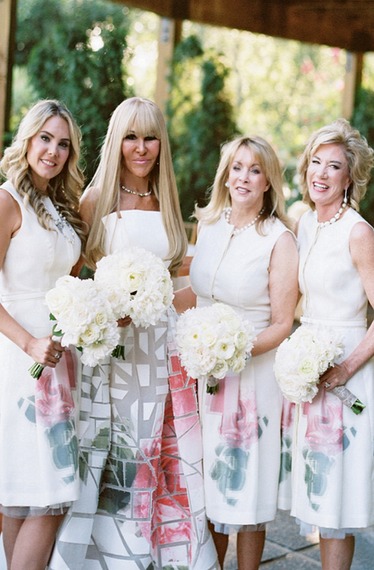 We underscored the rose theme with a profusion of white florals, rising in stately, stanchion pedestals at the altar on the Auberge balcony, encircling towering candelabra on the tables, and lining the aisles as rose petals. Flowers even twinkled above the guests at the ceremony–in glass globes with LED lights.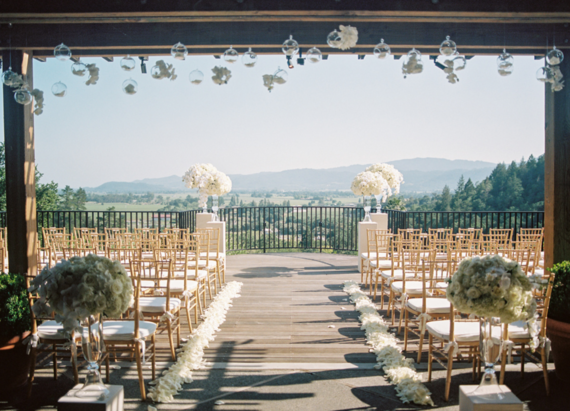 But there was more–I wanted our wedding confection to replicate "Broken Rose,"–not just the colours, but the shape and painted panels. So we found a bakery that literally copied the dress–onto a four-foot cake.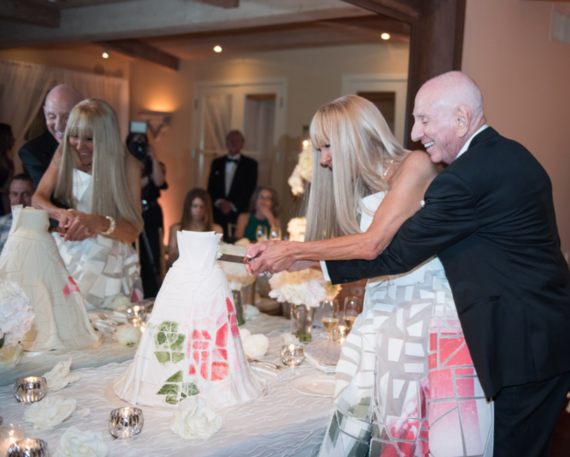 My dear friend–the ultra soignée Susan Gutfreund–flew in from New York and blew kisses from the front row –and number one doyenne and fashion maven–and my friend-of-the-heart "tribe" member–Denise Hale–sat in the first seat in the first row, smiling and nodding her head in approval.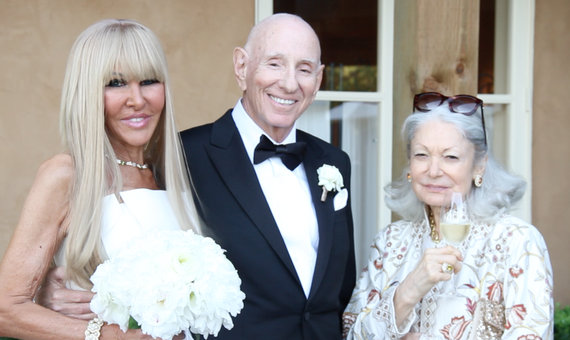 Scores of my team of San Francisco socialites, my wonderful friends Elisa Stephens and Ed Conlon, Adrianna Pope Sullivan and Bobby Sullivan, Bill Poland, Angus MacNaughton, Carol and Dixon Doll, Dorothy and Ken Paige, Margaret Liu Collins and Ted Collins, Joel Goodrich, Toni Wolfson and Bob Federighi, Rosemary Baker, Karen and Oliver Caldwell, Joy Venturini Bianchi, Barbara Brookins-Schneider, Jon Finck and Gary Fleiger, Sallie and Leon Huntting, Clara Shayevich and Sergey Sharapov, Anette Harris and Marc Loupe, Bahya and Gus Murad, Daniel Diaz, Mark Calvano, Jorge Maumer, Elizabeth Fullerton, Olivia Decker, Trish Ferrin Loucks, Lauren Krasny, Costanza and Fred Dopfel, Anthony Duarte and so many more of our family–and loved ones, celebrated with Frank and me.
That night, there was a full moon over the hills of Napa–an extra dollop of serendipity–and we reveled in the surprise. Paulo Coelho said: "You have to take risks. We will only understand the miracle of life fully when we allow the unexpected to happen."
It was, I must admit–a glorious first Northern California outing for the dress–which stole the show, as Frank has stolen my heart.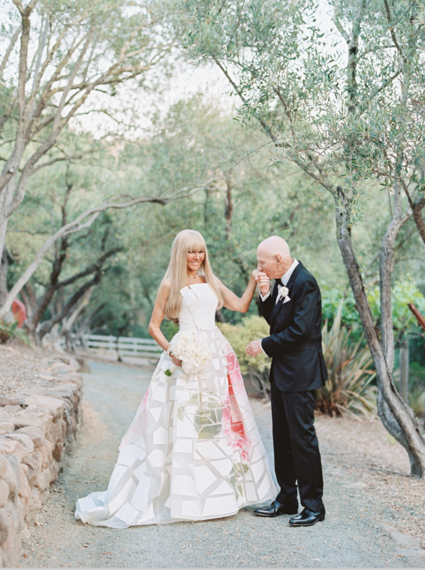 All photos Sylvie Gil Photography, San Francisco
Videography: R&P Films: Benjamin Myers and Rachel Pearl, New York
Wedding Planner: Stephanie Cole, Cole Drake
Flowers: Fleurs de France
Cake: Patisserie Angelica
Sourced from: http://www.huffingtonpost.com/elisabeth-laurence/carolina-the-cake-and-me-_b_7788778.html